Neighborhood Ventures Announces Sale of Venture on 66th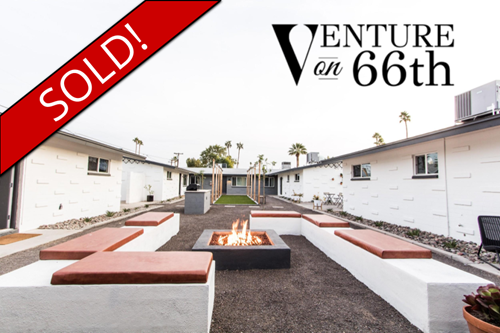 PHOENIX (December 30, 2020) – Arizona's first real estate crowdfunding company, Neighborhood Ventures, has announced the first sale of one of its investment properties, Venture on 66th. The 8-unit apartment building in Old Town Scottsdale closed on December 23 for a purchase price of $2.1 million and was sold to a private investor. Each of the 87 Arizona-based investors received a 12% preferred annual return on their investment.
Venture on 66th was the third community-based investing property to be offered by Neighborhood Ventures. Approximately 30% of the total capital for the project came from 87 Arizona residents who each invested an average of $6,322 in June 2019.
Neighborhood Ventures was launched in September 2017 by Jamison Manwaring, a former tech analyst at Goldman Sachs and VP of Investor Relations at LifeLock, and John Kobierowski, a veteran in the apartment industry and managing partner of ABI Multifamily. The two partnered to create Neighborhood Ventures when new laws were passed that allowed non-accredited investors to become shareholders in Phoenix apartment projects with as little as a $1,000 investment.
"We started this company to enable all Arizona residents to get involved in commercial real estate investing," says Manwaring. "It feels amazing to come full circle and pay out the 12% preferred annual return to our local investors who put their hard-earned dollars into this project."
Kobierowski says the sale of Venture on 66th is critical milestone in showcasing Neighborhood Ventures' ability to buy the right properties in the right location at the right price, do smart renovations, and offer investment opportunities that make sense.
"The icing on the cake is that over half of our investors in Venture on 66th have chosen to also invest in our latest project, Venture at Mountain View, a 26-unit apartment building in Sunnyslope that is kicking off renovations now," says Kobierowski.
Arizona residents interested in learning more about investing in their community can visit neighborhood.ventures to view current opportunites. Accredited investors in other states now can invest in the Neighborhood Ventures Fund, which will co-invest in 5-10 projects with local investors.