Chris Lacasse Joins Neighborhood Ventures as VP of Acquisitions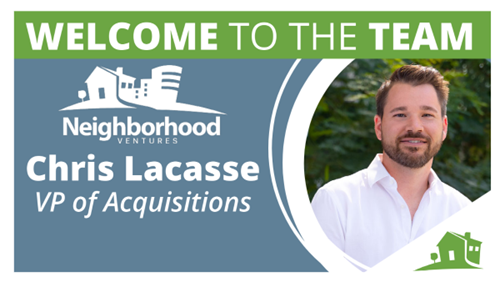 PHOENIX, AZ (April 30, 2020) — Neighborhood Ventures, the nation's largest community-based real estate investment company, is pleased to announce that Chris Lacasse has joined the team as VP of Acquisitions. In this role, Lacasse will lead new retail property acquisitions as well as assist in multifamily acquisitions for the company.
Prior to joining Neighborhood Ventures, Lacasse held positions with private and institutional real estate investment organizations in Canada and the United States, and founded a boutique commercial real estate firm focused on adaptive reuse retail projects in Phoenix.
"Throughout his career, Chris has led the acquisition and disposition of over $1.5 billion worth of commercial real estate assets as well as overseeing more than 20 development projects," says Neighborhood Ventures co-founder Jamison Manwaring. "Having Chris on the team will definitely help us reach the next level, as we continue to expand our investment opportunities."
Lacasse says he was drawn to Neighborhood Ventures because he was looking for a strong success-oriented team.
"I actually was watching a Neighborhood Ventures video a while back, and I heard someone on the team say 'If you want to go fast, go alone. If you want to go far, go together.' That really resonated with me. After a few conversations with John and Jamison, it was clear the puzzle pieces fit together. I've been here for one whirlwind month, and we've got some exciting projects cooking that will be announced soon."
Chris has been in Phoenix since 2012. He earned a Master's Degree in International Real Estate from the University of Aberdeen (Scotland) and the University of Hong Kong, is a Chartered Property Finance & Investment Surveyor, a member of the Royal Institute of Chartered Surveyors, and a licensed real estate broker in the State of Arizona.
"Chris is joining us at the ideal time," adds Neighborhood Ventures co-founder and ABI Multifamily President and CEO, John Kobierowski. "We were looking for someone who could help propel us to the next level, and there's no doubt we found that person."