Hotel Conversion Project to Bring Additional Rental Housing to Mesa, AZ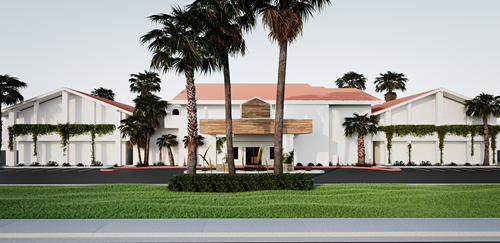 Real estate crowdfunding company Neighborhood Ventures announces new investment opportunity
MESA, AZ (July 1, 2021) — According to the U.S. Census Bureau, the City of Mesa ranks among the top five cities nationwide for population growth. From July 1, 2019, through June 30, 2020, an average of 290 people were moving to Mesa each day – a number that continues to grow. A proliferation of jobs, remote work opportunities, and quality of life may draw them in, but once new residents arrive, they need a place to live. And housing is in short supply. Thanks to a new project from real estate crowdfunding company, Neighborhood Ventures, a hotel conversion project of the 120-unit Venture on Country Club in Mesa will soon provide much-needed housing.
"This project is right in our wheelhouse even though it may look a little different at first glance," says Neighborhood Ventures co-founder and President of Real Estate, John Kobierowski. "We are acquiring the property at a low price and repositioning the asset through renovation and improved operations, with a goal of stabilizing the asset so it generates consistent cash flow. Our ultimate goal is to liquidate the property at a higher sales price. In the process, we're hoping to improve the neighborhood and add functional housing to a market that needs it."
Neighborhood Ventures is not the first to get in on the trend of converting hotels and motels into housing. As the demand for housing continues to grow, and some hotels are experiencing financial struggles, this model has drawn the interest of investors both in the Valley and nationwide. In the case of Venture on Country Club, Neighborhood Ventures plans to have the property reclassified to operate as 120 apartment units. In the interim period, the company will upgrade all units (35 studios, 73 one-bedroom, one-bath units, 12 two-bedroom, two-bath units) with new furniture, flooring, paint, and appliances, then rent them out as upscale Airbnb units.
"After purchasing and renovating the property, we expect to operate the upgraded units as short-term rentals for 6 months to one year," says Neighborhood Ventures co-founder and CEO Jamison Manwaring. "Once we complete rezoning, we'll find long-term tenants and plan to position the property for sale.
Neighborhood Ventures was launched in September 2017 by Jamison Manwaring, a former tech analyst at Goldman Sachs and VP of Investor Relations at LifeLock, and John Kobierowski, a veteran in the apartment industry and President and CEO of ABI Multifamily. The two partnered to create Neighborhood Ventures when new laws were passed that allowed non-accredited Arizona residents to invest in commercial real estate projects with as little as a $1,000 investment.
Those interested in learning more about Venture on Country Club should visit neighborhood.ventures