Neighborhood Ventures Announces Sale of Venture at Villa Hermosa Crowdfunded Investment Property in Uptown Phoenix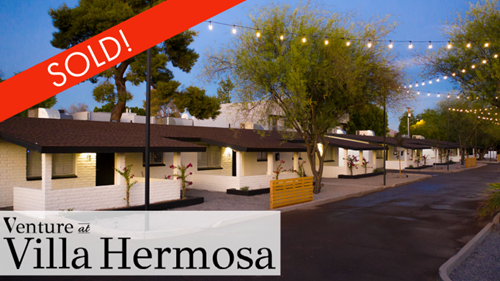 PHOENIX (October 23 ,2021) – Arizona's first real estate crowfunding company, Neighborhood Ventures, has announced the sale of one of its investment properties, Venture at Villa Hermosa (5742 N 10th St, Phoenix, AZ 85014). The 14-unit boutique apartment building, comprised of two-bedroom/one-bath units closed on October 21 for a purchase price of $3.92 million/$280K per unit/$370.37 Per SF and was sold to an out of state buyer in an off market transaction. Each of the 167 Arizona-based investors received a 12% preferred annual return on their investment.
Upon purchase of the property in March 2020, the Neighborhood Ventures team commenced a transformational renovation. Venture at Villa Hermosa, which is located in a residential neighborhood in the heart of Uptown Phoenix, received fully renovated interiors, including stainless-steel appliance packages, quartz countertops, new cabinets, new roofs, new flooring, paint, and HVAC units. The team also added new landscaping, including a community garden and fruit trees, which has flourished under the care of a resident gardener.
"We were able to breathe new life into Villa Hermosa, adding incredible value to this 1966-built apartment community, and enhancing the neighborhood in the process," says Neighborhood Ventures Co-founder John Kobierowski. "Honestly, it was a little hard for me to part with this beautiful property. I became pretty attached to it!"
Venture at Villa Hermosa was the fourth real estate crowdfunded investment property to be offered by Neighborhood Ventures, and the fourth to be sold. The 167 investors funded a total of $1 million toward the purchase of the property. Neighborhood Ventures has been paying these investors 6% cash distributions each month for almost a full year. The investors will now receive the remainder of their 12% annual preferred return.
"We expected we would hold the property for 24 months, but we received several unsolicited offers at the right price, and we ended up selling Villa Hermosa in just 19 months," says Neighborhood Ventures co-founder Jamison Manwaring. "Our business model is to purchase, renovate, lease-up, sell, then repeat. In his hot real estate market, things are moving quickly and it is extremely rewarding to help so many people take advantage of these investment opportunities."
Neighborhood Ventures was launched in September 2017 by Jamison Manwaring, a former tech analyst at Goldman Sachs and VP of Investor Relations at LifeLock, and John Kobierowski, a veteran in the apartment industry and CEO of ABI Multifamily. The two partnered to create Neighborhood Ventures when new laws were passed that allowed non-accredited investors to become shareholders in Phoenix commercial real estate projects with as little as a $1,000 investment.
Arizona residents interested in learning more about investing in their community can visit neighborhood.ventures to view current opportunities. Accredited investors in other states now can invest in the Neighborhood Ventures Fund, which will co-invest in 5-10 projects with local investors