Neighborhood Ventures Announces Sale of Venture on Wilson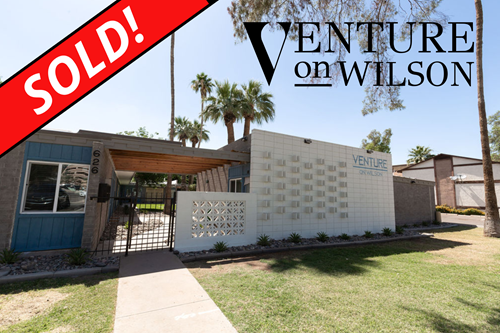 PHOENIX, AZ (April 16, 2020) — Neighborhood Ventures, the nation's largest community-based real estate investment company, is pleased to announce the sale of Venture on Wilson, a 12-unit apartment building in downtown Tempe. The property closed on April 13 for a purchase price of $2.1 million and was sold to a private Arizona-based investor. Each of the Arizona residents who invested in the project received a 12% preferred annual return on their investment when the property sold.
Venture on Wilson was the very first Neighborhood Ventures investment project to be offered when the company was launched in 2017. Approximately 31% of the total capital for the project came from 104 Arizona residents who each invested an average of $4,800 in the property.
Neighborhood Ventures brought this mid-century modern 12-unit apartment building back to its former glory by adding modern touches and creating a desirable urban community. Each of the twelve units were renovated over a period of four months. Renovations included upgrades to unit appliances, flooring, countertops, cabinetry, fixtures and common areas. Upon completion of the renovation, rents were brought in line with the market.
Neighborhood Ventures was launched in September 2017 by Jamison Manwaring, a former tech analyst at Goldman Sachs and VP of Investor Relations at LifeLock, and John Kobierowski, a veteran in the apartment industry and senior managing partner of ABI Multifamily. The two partnered to create Neighborhood Ventures when new laws were passed that allowed non-accredited investors to become shareholders in Phoenix apartment projects with as little as a $1,000 investment.
Arizona residents interested in learning more about investing in their community can visit neighborhood.ventures to view current opportunities. Accredited investors in all 50 states now can invest in the Neighborhood Ventures Fund, which will co-invest in 5-10 projects with local Arizona investors.