Neighborhood Ventures Launches National Fund for Accredited Investors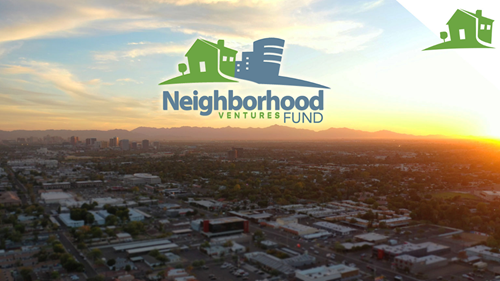 Media Contact: Elaina Verhoff, [email protected], cell: 602-214-5757
PHOENIX (January 14, 2021)–Neighborhood Ventures was created to change the way people invest in commercial real estate. Co-founded by John Kobierowski, who brings over 25 years of experience in Phoenix multifamily real estate, and Jamison Manwaring, a former equity analyst at Goldman Sachs and head of investor relations for a large public company, Neighborhood Ventures was launched in 2017to give Arizona residents of all income levels the opportunity to invest in local commercial real estate projects through crowdfunding. In December, the company launched the Neighborhood Ventures Fund, opening their projects to accredited investors across the country.
"Over the past three years, we have successfully funded the purchase of five apartment projects in the Phoenix area, and we currently have over $16millionin assets under management," says Manwaring. "The equity to fund these projects has come in part from over 600 Arizona-based investors. Now we're excited to open our projects nationwide, expanding our investor base and letting others get in on the hot Arizona real estate market."
With the addition of a national investment fund, Neighborhood Ventures will now offer two types of investments. The first, dubbed Community-based Investing, is a continuation of the crowdfunding model that allows all Arizona residents, whether they are accredited or non-accredited investors, to invest in properties with a minimum investment of $1,000. The new Neighborhood Ventures Fund is available to accredited investors in any state and the minimum investment is $50,000. The definition of an accredited investor is someone who has an individual net worth, or joint net worth with their spouse, that exceeds $1 million at the time of their investment (excluding the value of their primary residence) or someone who has income over $300,000 for the past two years.
The Neighborhood Ventures Fund will co-invest with Arizona residents, or Community-based Investors, on select projects. Investors in the Fund will receive a target preferred annual return of 12% IRR, and their investment will be pooled among 5-10 projects over a five-year closed period, scheduled to end in December 2025.
All Neighborhood Ventures investors are passive investors, meaning they are not directly involved with the purchase, renovation, or property management of the projects they are invest in. Instead, they get to follow along with regular video updates as the projects take shape, and participate in regularly scheduled investor meetings and events, both virtual and in-person.
"Due to explosive population growth, a strong economy, and demand for rental housing far outpacing supply, Arizona's multifamily industry is hotter than ever -- and there are a lot of opportunities for companies like ours, who understand the market," explains Kobierowski. "Our team finds the right properties at the right price, renovates them on a budget, brings rents up to market rate, and ultimately sells these properties for a profit. It's a model that works, and it feels great to let others in on an opportunity that was once only available to an elite group."