Neighborhood Ventures Plans Summer Renovation for Crowdfunded Investment Property in Flagstaff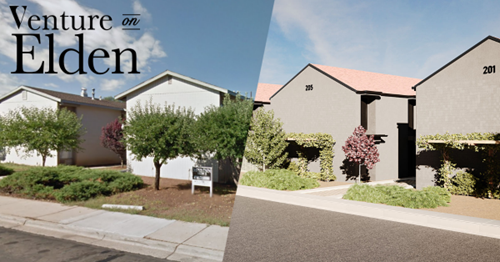 FLAGSTAFF, AZ (June 14, 2021) — In April, Neighborhood Ventures announced its first Flagstaff investment project, Venture on Elden, offering Arizona residents the opportunity to earn a 12% preferred annual return and invest as little as $1,000 in the 16-unit residential apartment development located at 201 S. Elden, Flagstaff, Arizona, 86001. The project raised $1 million in the first 24 hours, with 168 investors. In July, Neighborhood Ventures will kick off a 3–4-month renovation project. Summer renovations planned for Venture on Elden include a complete upgrade of the exterior, including paint and landscaping. Following the exterior improvements in July, interiors will get a facelift in August, with all units receiving air conditioning units, washer and dryers, new cabinets and appliances, flooring, paint, fixtures, and lighting.
"This is a great property in a phenomenal location, with a lot of opportunity for improvement," says Neighborhood Ventures co-founder John Kobierowski. "I am fortunate to split my time between Phoenix and Flagstaff, and I have a strong appreciation of the unique character here in Flag. It feels great to buy an older property in need of an upgrade and improve the character of the neighborhood while at the same time enabling all Arizona residents to invest in commercial real estate."
Venture on Elden is the eighth investment project to be offered by Neighborhood Ventures, a company founded in 2017 on the belief that everyone should have the opportunity to invest in commercial real estate projects, something that was once only available to wealthy, accredited investors prior to crowdfunding laws being passed. 
Flagstaff resident Chris King has invested in multiple Neighborhood Ventures projects, including Venture on Elden. King says as a relatively small investor, he has been attracted to Neighborhood Ventures projects as an easy way to invest in Arizona real estate. 
"They make the process very easy, and I enjoy following the projects as they progress," says King. "I have lived in Flagstaff for over 35 years, so when the Venture on Elden opportunity came up, I had to invest."
"There is so much potential at Venture on Elden," adds Neighborhood Ventures Lead Designer, Rocky Petersen. "Updating paint, lighting, and fixtures, plus putting in new flooring, new kitchens and appliances will make a big impact. We will also be adding washers and dryers in all the units and creating private patios for residents as well."
The target hold period for the Venture on Elden project is three years, and investors will receive a preferred annual return of 12%.
Those interested in learning more about Venture on Elden should visit neighborhood.ventures and https://www.youtube.com/watch?v=QDoVgsbT9Ak