Venture on Country Club Fully Funded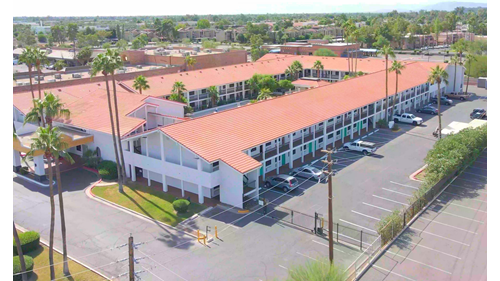 PHOENIX, AZ (December 4, 2020) — Arizona-based real estate crowdfunding company Neighborhood Ventures has reached its target fund raise amount for Venture on Country Club, a 120-unit hotel-to-housing conversion project in Mesa, AZ. A total of 297 Arizona residents have collectively invested $3.5 million in the property. Renovations are underway, and an application to rezone the project from a hotel to an apartment community will soon be submitted to the City of Mesa. The target hold period for this project is three years, with a targeted preferred annual return of 12%.
"This is our biggest project yet, and the response from investors has been incredible" says Neighborhood Ventures Co-founder Jamison Manwaring. "While we've met our fundraise target amount of $3.5 million on our own platform for Arizona investors, there is still an opportunity to invest in the project through the Small Change investment platform, which is open to investors nationwide."
Venture on Country Club, located at 1410 S Country Club Drive, Mesa, AZ 85210, was built in 1985 and has 120 units (35 studios, 73 one-bedroom, one-bath units, 12 two-bedroom, two-bath units). Upon purchase of the property, Neighborhood Ventures renovated the units with new furniture, flooring, paint, and appliances. The former hotel office has been repurposed into a coworking space, and the gym and pool areas have been upgraded with new equipment and furniture.
While Neighborhood Ventures awaits approval from the City of Mesa to rezone the property from a hotel to an apartment building, the company is converting all units to upscale Airbnb rentals. So far, one third of the units are operating as Airbnb rentals.
"We love investing in properties located in up-and-coming neighborhoods, and making upgrades that improve the surrounding community," says Neighborhood Ventures Co-founder John Kobierowski. "Venture on Country Club neighbors and nearby businesses have been incredible with their support for this project, and our rezoning efforts. We expect to have the hotel rezoned as apartments some time next year, which will bring much-needed additional housing to Mesa."
Neighborhood Ventures, Arizona's first real estate investment company, offers investment opportunities to Arizona residents of all income levels, with a minimum investment amount of just $1,000. To date, the company has purchased 10 properties and sold four of them, paying investors a 12% preferred annual return on their investments. Find the latest information on investment opportunities and progress updates on all projects at neighborhood.ventures.