Venture on Country Club Now Open to Investors in all 50 States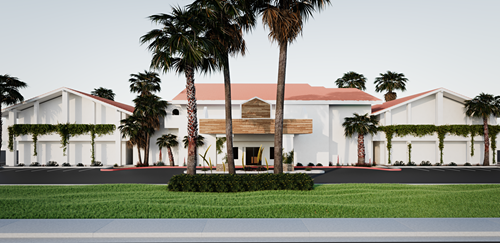 Thanks to a partnership between Neighborhood Ventures and national real estate crowdfunding platform Small Change, non-accredited investors nationwide can now invest in Venture on Country Club, a 120-unit hotel to housing conversion project in Mesa, Arizona. Click here to view the live offering: https://www.smallchange.co/projects/Venture-on-Country-Club.
"Since we first founded the company, we set our sights on offering our investment projects to as many nonaccredited investors as possible," says Neighborhood Ventures co-founder Jamison Manwaring. "We started with Arizona residents, and now we're offering our first project to residents of all 50 states through our partnership with Small Change. Our Arizona investors are already telling us they're excited get their friends and family in other states involved in our projects."
Upon purchase, Neighborhood Ventures plans to have Venture on Country Club reclassified to operate as 120 apartment units. In the interim period, the company will upgrade all units (35 studios, 73 one-bedroom, one-bath units, 12 two-bedroom, two-bath units) with new furniture, flooring, paint, and appliances, then rent them out as upscale Airbnb units.
"After purchasing and renovating the property, we expect to operate the upgraded units as short-term rentals for 6 months to one year," says Neighborhood Ventures co-founder John Kobierowski. "Once we complete rezoning, we'll find long-term tenants and plan to position the property for sale.
Neighborhood Ventures was launched in September 2017 by Jamison Manwaring, a former tech analyst at Goldman Sachs and VP of Investor Relations at LifeLock, and John Kobierowski, a veteran in the apartment industry and President and CEO of ABI Multifamily. The two partnered to create Neighborhood Ventures when new laws were passed in Arizona that allowed non-accredited investors in that state to become shareholders in Phoenix apartment projects with as little as a $1,000 investment. Now they are opening the doors to investors nationwide through this offering on SmallChange.co.