Venture on Williams Hits Target Raise in First 48 Hours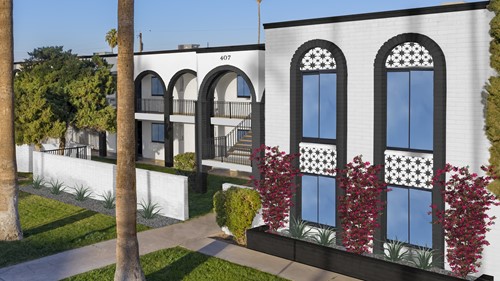 PHOENIX, AZ (March 15, 2020) — Neighborhood Ventures, the nation's largest community-based real estate investment company, is pleased to announce its sixth investment opportunity, Venture on Williams, a 20-unit apartment building located at 407 Williams Road, Mesa, AZ (Gilbert and University) near Downtown Mesa. The Spanish architectural style building includes 19 2-bedroom/2-bath units and one 3-bedroom/2-bath unit, each at least 1,000 square feet.
The Venture on Williams project was opened to current Neighborhood Ventures investors over the weekend, during which time $749,000 was funded by 88 investors. Today the project opens to the public, with a target maximum raise amount of $1.1 million. The target hold period for this property is three years, during which time renovations will be completed, rents stabilized, and cash flow generated. Community investors receive a 12% preferred annual return on their investment when the property is sold.
"The response from our investors has been incredible," says Neighborhood Ventures CEO Jamison Manwaring. "Each time we announce a new investment opportunity, the project funds more quickly, and Venture on Williams is no exception. Our investors, many who recently received their 12% annual return when we sold our Venture on 66th property, are excited to continue investing with us."
"We are definitely in buying mode," says Neighborhood Ventures President of Real Estate, John Kobierowski. "The real estate market is strong and there is a lot of interest in Arizona multifamily investments. I am fortunate to have the experience and connections in this industry to find and secure the best deals for our investors."
Lead Neighborhood Ventures designer, Rocky Petersen, says there are extensive renovations planned for Venture on Williams. "This neighborhood will support higher rents, so we'll be taking this ideally situated architectural gem and refreshing it with both interior and exterior upgrades."
"We see huge upside potential in Venture on Williams, which is located in an ideal location near downtown Mesa," says Kobierowski. "We expect this one to be fully funded pretty quickly."
Learn more about Neighborhood Ventures and get involved in community investing at neighborhood.ventures
The Neighborhood Ventures team has been chronicling the process of identifying, buying, renovating, and selling their properties in a YouTube series that takes investors along for the ride. The latest video installment, which showcases the new property, Venture on Williams, can be viewed at https://www.youtube.com/watch?v=mx5x7faOPWQ