July 10th, 2023
Neighborhood Ventures Purchases 15th Crowdfunded Property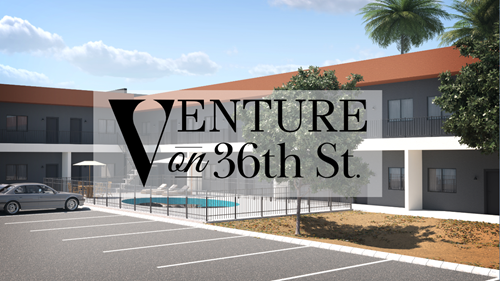 115 Arizona residents have invested in the 30-unit apartment building in East Phoenix
Neighborhood Ventures, one of the nation's leading real estate crowdfunding companies, is thrilled to announce that they have successfully raised $1.25 million for their latest investment opportunity and purchased a 30-unit apartment building they're calling Venture on 36th. In just a short period, 115 Arizona residents have come forward to invest in the residential apartment development in East Phoenix.
Built in 1981, Venture on 36th consists of twenty-eight one-bedroom, one-bathroom units and two two-bedroom, one-bathroom units. Additionally, the community features a shared courtyard, laundry room, and pool, providing a comfortable and convenient living environment.
"Though some Real Estate market segments have felt pressure from higher interest rates, we are confident that Multifamily will continue to be in high demand, especially in high-growth areas like Phoenix," says John Kobierowski, Co-founder and President of Real Estate at Neighborhood Ventures. "Neighborhoods with strong employment generators and walkability are always where people want to live. We deliver renovated, competitively priced units with attractive amenities that offer real value to the market — and that's something we are prepared to deliver at Venture on 36th."
With its prime location off 36th Street and Thomas Road (2939 N. 36th Street), the property offers a desirable living experience to residents. East Phoenix is renowned for its vibrant business landscape and boasts a wide array of new and exciting restaurants. This urban-suburban mix of the neighborhood provides residents with access to a variety of local restaurants, entertainment, coffee shops, highly rated schools, and parks, making it an ideal location for families and young professionals.
Neighborhood Ventures has plans to enhance the property and maximize its potential. The interior of each unit will undergo simple renovations, including the installation of new fixtures, hardware, flooring, cabinets, and appliances in some units. The exterior of the property will also undergo a transformation, with fresh paint and updated landscaping. Professional property management will be implemented to increase rents and stabilize the building, ensuring a consistent cash flow for investors.
"The support and enthusiasm from our investors demonstrate their trust in our expertise and vision," says Jamison Manwaring, Co-founder and CEO of Neighborhood Ventures. "We are confident that this project will deliver excellent returns and positively impact the community."
Upon completion of the renovations and stabilization of the property, Neighborhood Ventures anticipates either selling or refinancing after a three-year period. With a strong focus on enhancing the property's value, Neighborhood Ventures' goal is to generate positive returns for its Venture on 36th investors.