Real estate crowdfunding company hosting open house Saturday at Mesa investment property
August 6th, 2021 | Mesa Independent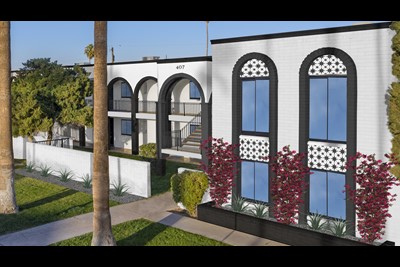 Local real estate crowdfunding company Neighborhood Ventures is hosting a free open house for investors and potential investors. It is 8-10 a.m. Saturday, Aug. 7, at Venture on Williams, a 20-unit apartment building at 407 N. Williams Road in Mesa.
Attendees will be treated to donuts and coffee from popular local donut shop Chin Up Donuts, see the completed renovation work thus far and have an opportunity to talk with the Neighborhood Ventures team, according to a release.
"Hosting in-person events like this one give our investors and potential investors an opportunity to be a part of the project life-cycle, where we acquire, renovate, stabilize, generate cash flow and ultimately sell each investment property," Neighborhood Ventures Co-founder Jamison Manwaring said in the release. "Plus, it's just a lot of fun to get our investors together to celebrate milestones along the way."
Venture on Williams is the sixth property to be funded by the real estate crowdfunding company. It was founded in 2017, when Arizona crowdfunding laws opened commercial real estate investments to all Arizona residents for as little as a $1,000 investment.
The Spanish architectural style building is owned in part by 155 investors who invested a total of $1,083,000 into the property — an average investment of around $7,000 each — earlier this year. The target hold period for the property is three years, during which time renovations will be completed, rents stabilized and cash flow generated. Renovations are scheduled to be completed this fall. The target hold period is three years and the target return for investors is a 12% preferred annual return when the property is sold, the release states.
Learn more about Neighborhood Ventures, including its current Mesa project, Venture on Country Club at neighborhood.ventures.