March 31st, 2023
Venture on 17th Hits Target of $1.5 Million in First 24 Hours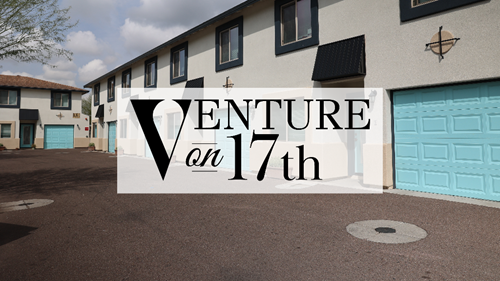 150 Arizona residents have invested in the 22-unit apartment complex Located in Uptown Phoenix
PHOENIX (March 31, 2023) — Real estate crowdfunding company Neighborhood Ventures announced that in less than 24 hours their latest investment opportunity, Venture on 17th, had reached its target fundraising amount. Since its launch, 161 Arizona residents have invested $1,945,000 in the modern 22-unit townhome property located in Uptown Phoenix.

The project has a target hold period of three years with a targeted preferred annual return of 12%. At near full occupancy, however, Neighborhood Ventures will immediately start 6% cash distributions to investors.

"We have been patiently waiting to find a property that met our high standards for investment," says Neighborhood Ventures Co-founder and CEO, Jamison Manwaring. "Venture on 17th shows promise for value increase and high returns, so we are excited to bring this opportunity to current and potential future investors."

Located at 17th Avenue and Camelback Road at 5112 N. 17th Avenue in Phoenix, Venture on 17th was built in 2018 and is made up of 22 three-bedroom, two-and-a-half bathroom townhomes, each with its own one-car garage. The property is already in great condition but small updates will be made over time.

"Simple touches like new fixtures, paint, and updates to landscaping will really elevate it and help add value," says Neighborhood Ventures Co-founder and President of Real Estate, John Kobierowski. "The property is in a fantastic area with excellent dining options, easy freeways access, and it's just east of Grand Canyon University, making it highly attractive for renters."

Neighborhood Ventures plans to acquire Venture on 17th below the replacement cost, bring in professional property management to bring rents to market value, and stabilize the building to generate consistent cash flow. While the property is currently at 90% occupancy, Kobierowski projects it to be fully leased and stabilize 30-60 days after acquisition. Once the property has been upgraded, rents increased and the asset stabilized, Neighborhood Ventures expects to achieve a value in excess of $9.5MM.

Though the initial fundraise launch for Venture on 17th was successful, there is still an opportunity to invest in the project directly through the company's online platform. To find the latest information on investment opportunities and progress updates on all projects, visit neighborhood.ventures.