March 19th, 2022
Venture on Central Hits $1 Million Fundraising Target in 5 hours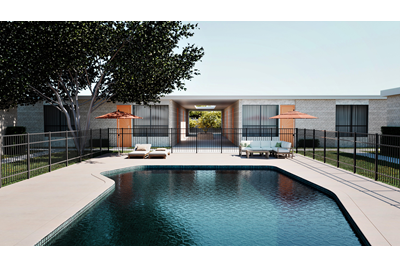 176 Arizona investors invested in this 16-unit Mid-century apartment building in the Heart of North Central Phoenix
PHOENIX, AZ (March, 19th, 2022) — Arizona-based real estate crowdfunding company Neighborhood Ventures reached its $1 million target fund raise in five hours for Venture on Central, a 16-unit mid-century apartment building located along the historic Murphy Bridle Path in North Central Phoenix. The offering hit its maximum fundraise of $1.5 million 24 hours later. A total of 176 residents have collectively invested $1.5 million in the property. The target hold period for this project is three years, with a targeted preferred annual return of 12%.
"This is the quickest fundraise we have ever had on a project. Most of the investors are invested in multiple projects, but we also saw many new investors participate. It's clear that Arizona residents know that this state is a great place to put their hard-earned money to work," says Neighborhood Ventures Co-founder and CEO Jamison Manwaring.
Venture on Central, located at 6540 N Central Ave, Phoenix AZ 85012, built in 1959, consists of three separate one-story buildings connected by semi-private patios and a shared courtyard. The units are large, and each have 2 bedrooms and 2 bathrooms. But the property needs a renovation to meet its full potential.
"We love properties in core areas of Phoenix. This property is surrounded by multimillion-dollar homes and is a short drive to downtown. It's also close to public transportation, and nearby 51 and 17 freeways. It is truly a diamond in the rough and we are lucky to acquire it," says Neighborhood Ventures Co-founder and President of Real Estate John Kobierowski.  
Neighborhood Ventures, Arizona's real estate crowdfunding company, offers investment opportunities to Arizona residents of all income levels, with a minimum investment amount of just $1,000. To date, the company has purchased 10 properties and sold four of them, paying investors a 12% preferred annual return on their investments. Find the latest information on investment opportunities and progress updates on all projects at neighborhood.ventures.